~ Everything I need to heal is within me ~
This thought came to mind last night and I realised it can be taken two ways. I like that.
I've put myself into a healing/wellness 'bubble' and, as part of that, I've started juicing again in recent weeks. I was never a fan of beetroot growing up (hated it!), but thinking back, I suspect it was because we had the pickled stuff at home. I have been incorporating beetroot into my juice, along with apple for sweetness and ginger and some other stuff and they taste so good. I also discovered that my dogs enjoy a little bit of raw beetroot too.
I have eaten plenty of healthy food in my life, but for me drinking a fresh juice you've just made (or someone has just made for you) is something that feels unique, as though I am 'drinking health'.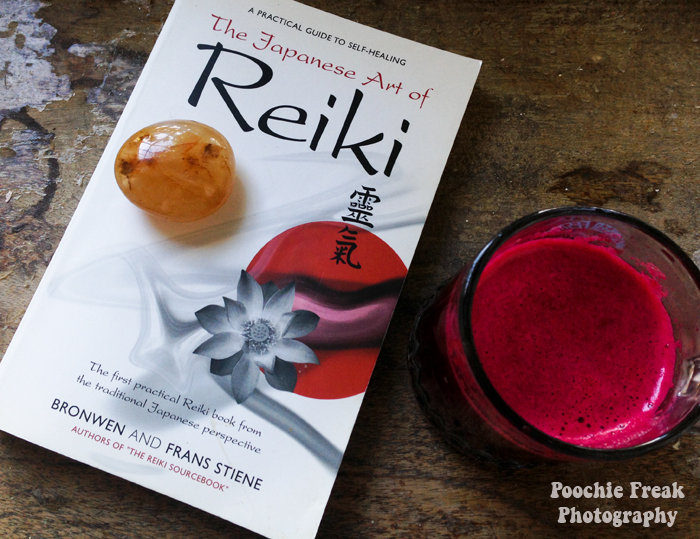 (Juice and book colour-coordinated, which I didn't realise until I put the photo here)
I'm also immersing myself in my Reiki practice as much as possible, along with reading about Reiki, watching Reiki videos and listening to talks about Reiki for animals online. If you haven't read The Japanese Art of Reiki, as pictured above, it's a wonderful read.
I have been experiencing some distance healing too. I also very much appreciate the support of my crystals, including the beautiful golden healer pebble you can see in the photo, which is with me pretty much all of the time.
I'm being very careful about what I expose myself to too, in terms of social media, the media etc. I have been avoiding the news as much as possible – not because I don't care, quite the opposite really, but I am taking this time to nurture myself and my beloved dogs. I'm only watching TV programmes/films that make me feel good/make me laugh. Gilmore Girls is an eternal favourite, along with programmes about beautiful homes, gardens and places, and comedies such as The Big Bang Theory, Would I Lie to You? and 8 Out of 10 Cats Does Countdown are wonderful for laughter.
What practices do you immerse yourself in to nurture yourself and your loved ones?
Love,
Angela