Hello, I'm Angela and I'm a chocoholic! Not a day goes by where I choose not to have any chocolate. I also absolutely adore animals, especially dogs, so I have decided to take part in the September pledge for Oldies Club, a small volunteer-run charity that rescues and rehomes older dogs in the UK, by giving up chocolate for a week. Well eight days actually. The pledge is for each person taking part to raise £50, so that is the overall target I've set, but more is of course welcomed
I have setup a fundraising page and I'd love YOU to sponsor me for my chocolate-free eight days. Please click HERE to donate – I would be most grateful. The more money raised, the more Oldies Club will be able to help older dogs. It's a little dog rescue with a big heart and your support would be very much appreciated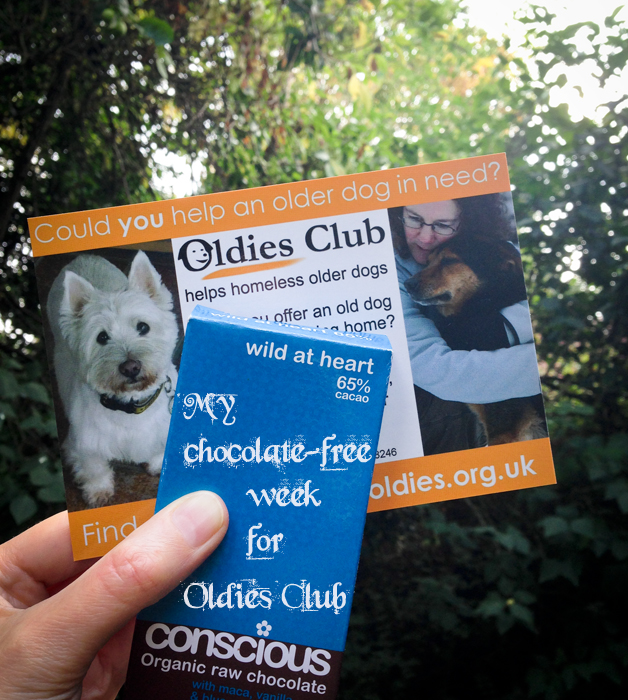 I will stop eating chocolate at the strike of midnight on the morning of Saturday 3 September 2016 and will not eat any chocolate (or any products with chocolate/cocoa in them) until the strike of midnight on Sunday 11 September 2016 – and probably right on the strike, followed by chocolate for breakfast!
11 September will mark five years since my precious Oldies Club boy, Jasper Bear, very sadly passed away and I am doing this in his memory as well as for all the older dogs Oldies Club currently cares for. You can see him in the photos. He had been taken to a vets to be put down and spent a night there
but thankfully the vets got in touch with Oldies Club and he came to stay with us for a night one New Year's Eve … and never left!
He arrived, sad and confused at losing his person, his doggie friend and his home
but he really did learn to smile again and we did all we could to make his final 20 months or so as wonderful as possible. Amazing dog, who I miss so very much.
Back to chocolate … I love chocolate, so these eight days will be a challenge for me. I eat the yummy, dark, vegan stuff and treat myself to the lovely raw chocolate like Conscious Chocolate when I can. On a good day, I eat a vaguely sane quantity of chocolate. On a stressful day or when I'm feeling a tad emotional, I have the bar sat on my desk and eat far too much without really noticing
It's a bit of a ritual to have the chocolate next to me as I watch TV and I'll find myself going to the cupboard to grab a little piece by habit when I'm feeling anxious or upset.
Please support me in raising funds for the lovely dogs Oldies Club takes in!
Thank you, Angela xxx