~ Six months ago today, I held you, my beautiful boy, as you peacefully slipped away with the help of my very kind and gentle vet.
I love and miss you so very much, Sno. We'd always been very close and connected, but the last eight months of your life, after you were diagnosed with cancer, we grew closer still, if that were possible. You were such a good, brave boy during your illness. You were an old dog by then, but your blood test results were good, so I made the decision to put you through surgery. I felt it was the right call and you bounced back SO well. You were so good about me taking care of your wound as it healed (and I quite surprised myself by not fainting!). You never once complained – and knowing you as well as I do, you may have even enjoyed the extra attention, bless you, for you really did become the centre of our little world. I gave you the very best of everything I possibly could (with some help, thank you!) and then when I needed to, I made the hardest decision, but the right one, at the right time, to make sure you didn't suffer.
This is one of my favourite ever photos, taken a few years ago, and so very you. Those beautiful eyes, those wonderful ears and the loving heart inside, our souls connected forever.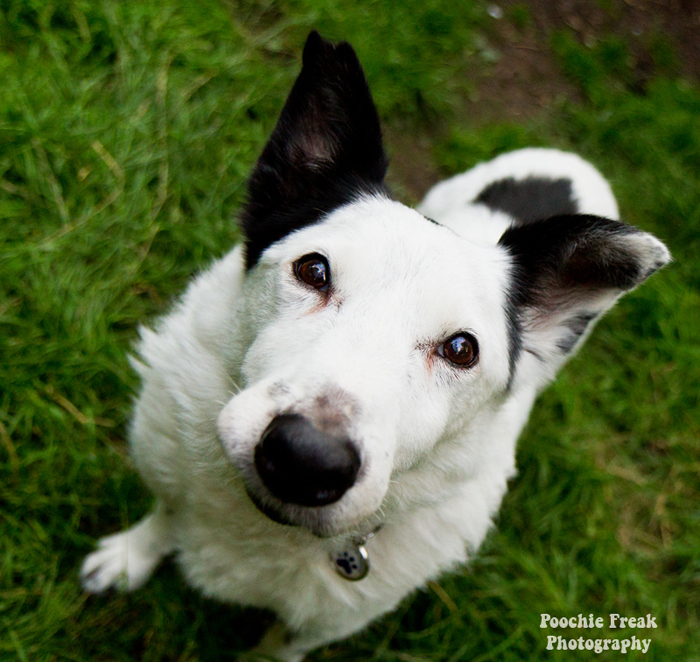 This is another of my favourites, taken on one of your many Gotcha Days. You weren't always the best for posing for photos, were you? You'd tend to flop on the floor for a tummy rub, or look for treats, so having you sit between my legs, looking up, kept you upright and shows our deep connection.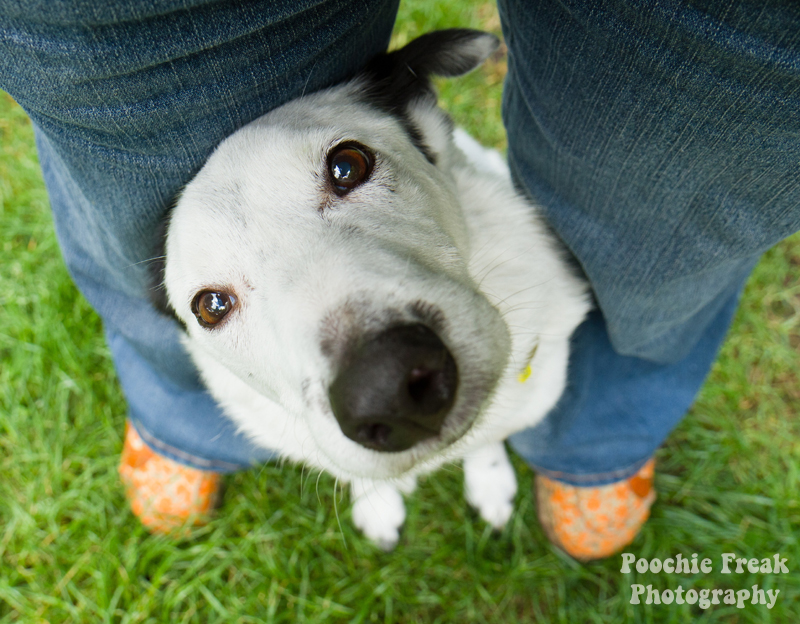 Aside from my vets, I only ever discussed your diagnosis and prognosis with one friend, because early on, I made the decision to focus on your well being and to try to worry as little as possible (a major challenge for someone like me) about when 'that' time might come. Around the time of your diagnosis I read a blog post from Kris Carr, who has lived with cancer for over a decade now and is a very inspirational woman indeed (who also happens to be the human to two beautiful rescue dogs and is a huge advocate of adoption). The post was along the lines of loving everything about oneself and not fearing the cancer and after reading it, I made the decision I would do my best to do the same for you. The area of your cancer was a part of your body and I loved ALL of you.
I also saw one of Kris and Lori's beautiful Love Notes, Be Present, which helped remind me during your final months to stay in the moment as much as possible. It wasn't always possible, but I did well, all things considered, and it enabled me to make the most of each day with you.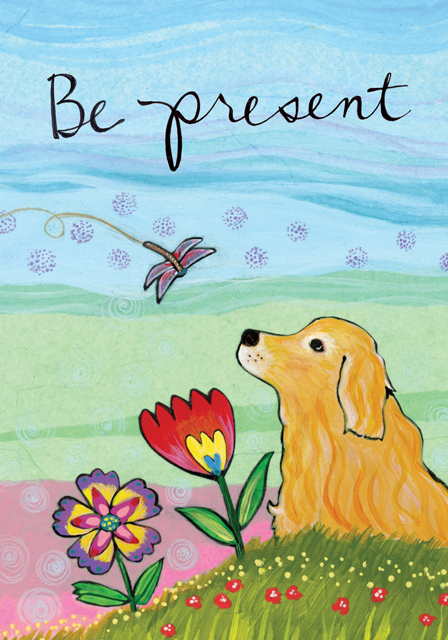 Image included with kind permission from KrisCarr.com
The night before you left your earthly form, I could feel myself becoming so overwhelmed with worry and sadness for what was to come the next day that I was detaching myself from you, from the moment right there. I remembered 'Be Present' and pulled myself back into that moment, determined to be there for you, with you. You were in your bed and, as I have many times, I sat on the floor to reach in and stroke you and give you Reiki. You were lying to one side and, being quite small, I wondered if I could get in with you. I could. So I sat in your bed alongside you and gave you Reiki and somehow, with you so relaxed, I was able to find peace and just be with you, no matter what was to come. I have many, many special memories of our many years together and that time with you in your bed sits at the top of the list.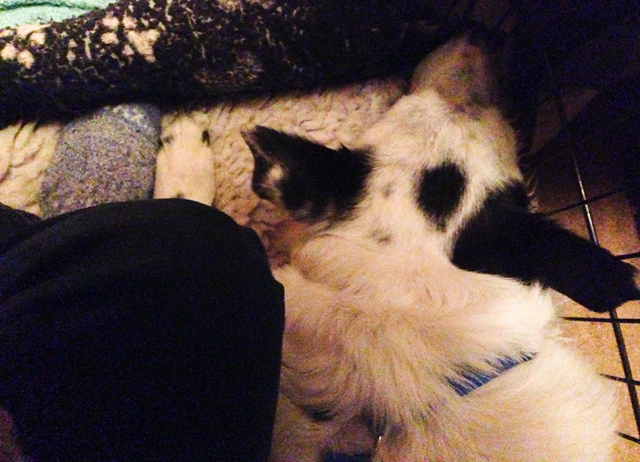 After you had passed away, I was looking through the many photos I have taken of you over the years, which helps me with the grieving process. As I've said before, I don't believe I ever get over losing my beloved dogs, I just somehow get through it. I know you are all still out there though, you tell me so. I couldn't really tell you why, but I had one of those slightly mad moments, the ones grief brings, where I panicked that I didn't have a photo of you with bluebells. Then, when I was looking for a completely different photograph, I found this one of you, running alongside some bluebells with a big smile on your face. Perfect!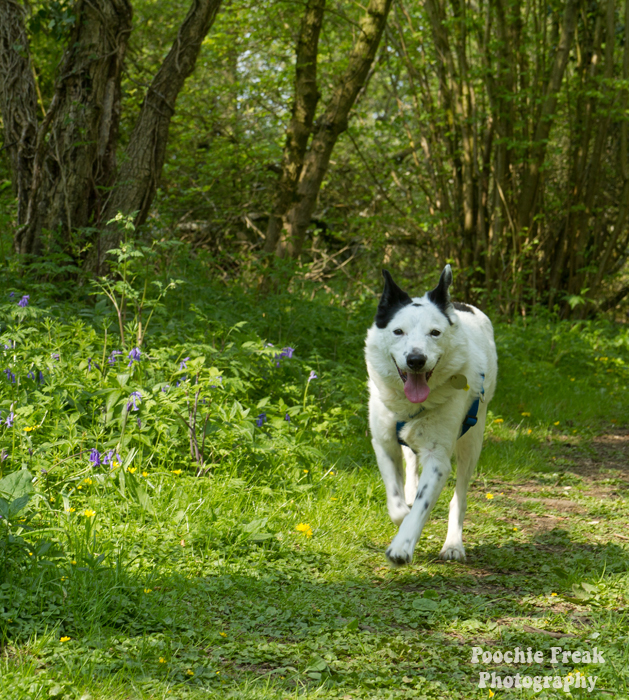 I loved your ears – and the 'Rescue Remedy' spot on the top of your head. I spent many hours stroking those ears and kissing that head.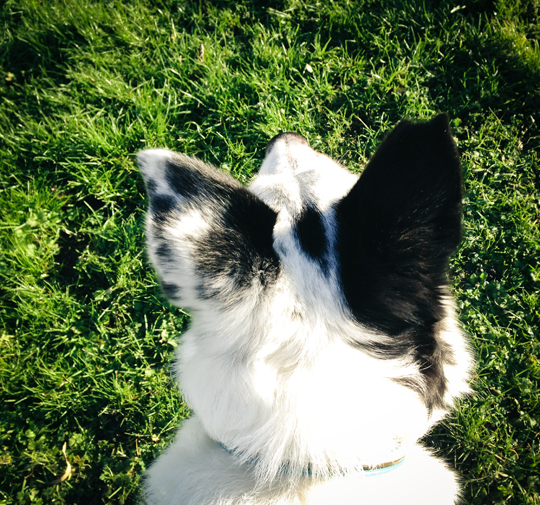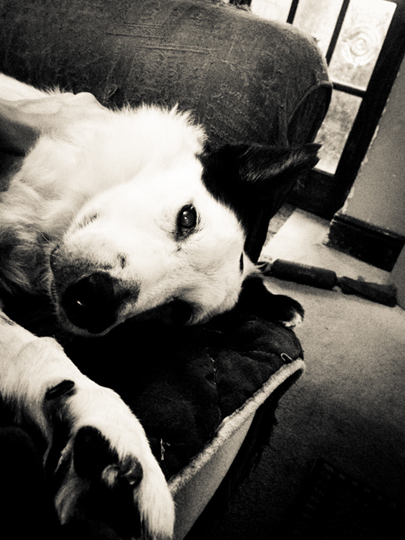 Just chilling after some Reiki and lots and lots of love!
I am very grateful to those who extended their support and kindness following your diagnosis and after you passed away. One of my lovely friends, Aura, drew this amazingly beautiful portrait of you.
I took this photo of us a few months before you passed away. It's a flipped phone photo so the quality isn't the best, but it will always be one of my most treasured photos. I thought I was losing you that day, so we spent some time outside, in the thankfully lovely sunshine, with Reiki and snuggles. Aren't you beautiful?
Thank you, my lovely Sno, for blessing my life with so much love in doggie form, for so many years. Reiki brought us together when I was asked to help you when you were in rescue, and Reiki helped us to make the most of those final months and moments together, until we meet again. You are such a beautiful soul and I love you, always. Forever your mum x